About Croatia, History, Food & Cuisine, Charter Yachts
---
Croatia: The Land of a Thousand Islands
Authentic old world culture combined with a glamorous hotspot locale makes Croatia a rare gem amongst popular holiday destinations; boasting over 1000 islands, this scenic country still offers plenty of uninhibited land, islets and cultural treasures to discover. Ideally located by the Adriatic Sea, Croatia is as diverse at its changing landscapes would suggest. From flat agricultural plains to highlands, from hills to an astounding 1,246 islands – this pleasure paradise of over 4.4 million inhabitants offers a little something for everyone.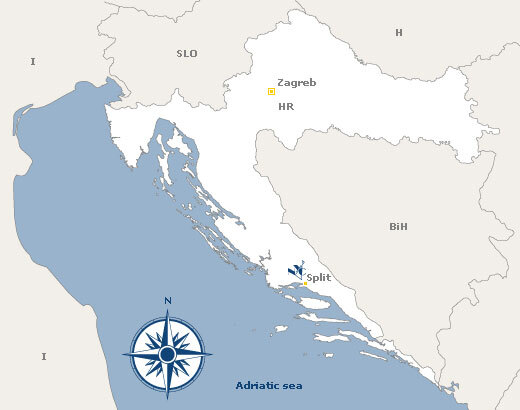 A Rich Historical Past
The first settlers entered the region in the 7th century and formed two principalities: Croatia and Pannonia. By the year 925 A.D., the two combined to form a kingdom. Ensuing battles and treaties saw a radical change in leadership over the years. A union with the Hungarians in the 12th century followed by a Hapsburg Monarchy takeover in the 16th century was just the beginning of the turmoil. In modern times, Croatia formed part of the Austro-Hungarian kingdom until the end of WWI then merged with Serbia and Slovenia to become Yugoslavia, until finally becoming independent in 1991. Though land disputes continued for a time, today, Croatia's coastal areas are some of the most beautifully enchanting of both Eastern Europe and the Mediterranean.
Archeologically speaking, there is evidence that the East coast of the Adriatic Sea was first inhabited as early as the Stone Age, due to cave artifacts found in the islands of Hvar and Palagruza. Another point of interest would be Korcula; the birth place of the great explorer Marco Polo, Mljet island as well.
A Coastline to Remember – Nautical Tourism Yachting
Glitzy parties on luxury yachts harbored in the crystal blue waters of towns such as Dubrovnik and Hvar are the norm in Croatia. Still, with nearly 2000 km of gorgeous coastline on offer those preferring more private getaways, will find what they're looking for in neighboring fishing villages, charming islets, pristine beaches and secluded coves.
Needless to say, nautical activities abound in Croatia's magnificent coastline islands. The Croatian Association of Nautical Tourism, established under the Croatian Chamber of Commerce, includes four distinct groups: the Croatian Marinas Group, the Croatian Charter Vessels Group, the Croatian Diving Tourism Group and the Cruising and Motor Sailboat Excursions Group – covering every type of aquatic activity imaginable.
To illustrate the possibilities: Croatia is home to 50 marinas, with a capacity of over 13,200 sea berths and 4,500 dry berths. The marinas are constantly renovated to upgrade their latest services in order to adapt to the guest's every need. Improved services include yacht charter services, health care clinics, traditional cuisine, apartment rentals and security services – to name but a few. What's more, the Adriatic Croatian International Club (the ACI Club) is the leading nautical tourism company in Croatia and over its 20 years of operation, the ACI has aimed to develop and popularize sailing and achieve a renowned level of high quality service – an effort often rewarded with numerous Blue flags; a prestigious international recognition awarded by the European Foundation for Environmental Education symbolizing a preserved, safe and pleasant environment.
Croatian Cuisine
Over the years, Croatia has been slowly gaining popularity as a culinary force to be reckoned with. Traditional Croatian cuisine consists primarily of locally grown quality ingredients including meats, fish, produce, spices and olive oil. This is not to say that they haven't found inspiration elsewhere; the coastal region, for example, is influenced by a curious mix of cultures including Greek, Roman and Illyrian, as well as Italian and French. The region of Dalmatia, located on the eastern coast of the Adriatic Sea, features plenty of fresh fish (sea bass, grouper, mackerel, gilthead are amongst the most popular) and vegetables which are grilled or boiled with olive oil (most notably from Dalmatian Islands and Istria) and herbs.
Typical island dishes include vitalac, or spike-roasted lamb, vis, spike-roasted pilchards (sardines), pasticada, a stew accompanied by gnocchi and local prosciutto served with regional chesses. Pasta favorites include manestra which is prepared with minced meat and arambasici in which the meat is stuffed in vine leaves. Regions with an abundance of fresh water – such as the Neretva Valley, Trilj and the Cetina Basin – are famous for their frog, eel and river crab dishes.
Dalmatian desserts are often simple yet tasty. The most common ingredients include Mediterranean fruits, dried figs, raisins, almonds, honey and eggs. Gingerbread biscuits made in Hvar (rozata), are an excellent example of a typical Croatian dessert.
The local wine regions are also increasingly clebrated. The most renowned wines include Dingac and Postup from the Peljesac Peninsula; Babic from Primosten; Vugava and Plancic from Hvar. Other up and coming notables are Posip and Grk from Korcula; Marastina from the island of Lastovo, and Malmsey from Dubrovnik.
For more in depth information visit the website of the official Croatian Tourist Board.
Travel Essentials:
Documents: Up-to-date passports or recognized identification is required for visitors wishing to enter Croatia. Contact the Ministry of Foreign Affairs of the Republic of Croatia for additional Visa requirement information for your particular country of residence mvep.gov.hr.
Those wishing to drive in Croatia should have an international "Green Card" issued by their insurance company. A vessel arriving by the sea, shall be reported at the border crossing, and afterwards at the Harbor Master's Office (or branch office). More information is available at the Ministry of the Sea, Tourism, Transport and Development of the Republic of Croatia: www.mmtpr.hr
Customs Regulations:
The customs regulations of the Republic of Croatia are in harmony with the standards of the EU member states.
There is no limit for the import and export of foreign currency. However, the limit for the export of local currency is 15,000.00 kn.
Valued professional and technical equipment must be declared upon entering the country.
People traveling with pets (dogs and cats) must have an International Certificate issued by a licensed veterinarian demonstrating that rabies vaccinations are up-to-date (no more than 6 months old). For more information: www.veterinarstvo.hr.
Foreign citizens who spend more than 500 kuna are entitled to a VAT refund. Eligiable visitors can fill out a form (Tax Cheque) to be handed in to customs authorities on departure from Croatia. Contact the Customs Authority of the Republic of Croatia for more information (Tel: 01 6102 333); www.carina.hr
Important Contact Numbers and Information
International country code for Croatia: 385
Emergency phone: 112
Search & Rescue on Sea: 9155
Police: 192
Ambulance: 94
Fire brigade: 193
Road Assistance : 1987 (if calling from abroad or mobile phone dial +385 1 987)
General Information 981
Information for local and long-distance telephone numbers 988
International phone directory 902
Weather forecast and road conditions 060 520 520
Croatian Auto Club (HAK) 01 4640 800; Internet: www.hak.hr; e-mail: info@hak.hr
Information on gas rates and list of gas stations: www.ina.hr or www.omv-indoil.hr
Mobile Phone Networks in Croatia: T-Mobile 098, VIP 091, Tele2 095, Tomato 092
T- mobile: www.hrvatskitelekom.hr
VIPnet; www.a1.hr
Tele2 : telemach.hr
Croatian Angels: (Tourist information for all of Croatia) 062 999 999. For calls from abroad dial: +385 62 999 999. This service is available in Croatian, English, German and Italian from March 25 to October 15.
Environmental Protection
The Protection of Croatia's impressive biodiversity is enforced in accordance with EU regulations. The Adriatic Sea is ideal for bathing and meets the high standards required by the EU criteria. That being said, in case of an accident orif you witness unlawful pollution of the sea, please notify the National Rescue Coordination Center at 9155 (toll-free phone). In case of significant land pollution, please notify the National Center for Notification at 01/ 481 4911 or for more environmental information: www.mzopu.hr. Croatia is one of the enchanting destinations available to Navis Yacht Charter clients as part of our itineraries in Croatia. For more information about luxury yacht charters and other exclusive services, contact us at our NYC office. We are at your service to answer your queries promptly and to your total satisfaction.