Private Jet charter Croatia Aircraft charters Greece Montenegro Italy France
---
For those who want to arrive to their holiday port destination quickly and efficiently, Navis Yacht Charter, leading luxury yacht charter broker in the Mediterranean, has a private jet charter service available, to ensure maximum comfort for its clients ahead of a sailing trip of a lifetime.
A specially designated team of NYC employees can arrange private flights from almost any European city, as well as Russia and the Ukraine, to airports nearby to the ports of our luxury yacht charters , across the Mediterranean.
You have booked the ultimate in beautiful sailing yachts for a luxury yacht charter of a lifetime, so it is only natural that you would like to arrive from the airport in style.
Look no further, for, as well as providing you with the prefect yacht, we at Navis Yacht Charter can also conjure the prefect luxury car to transfer you and your party to your boat. These independent services ensure your safety and comfort, regardless of transfer duration and can be used by anyone requiring road transport.
Cessna Citation 550 Business Jet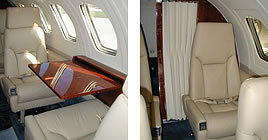 Basic Technical specifications:
Range: 2.800 km
Air Speed: 720 km/h
Passengers: 8
Max flight altitude: 12.000 m
Crew: 3
Catering: Yes
Stewardes: Yes
Entertainment: LCD TV, CD, Newspapers, Telephone