Suggested itinerary for North Dalmatia
---
Day 1. Departure Bases: Split – Trogir
In the 3rd century BC a Greek settlement Tragurion which developed into a major port in the Roman period. Sudden prosperity of Salona deprived Trogir of its importance. Enjoy your time in ancient city Trogir before departure from ACI marina towards Krknjasi Island and Town Primosten.

Day 2. Krknjasi Islands – Primosten
We steam from Split or Trogir ACI Marina to Island Krknjasi where we enjoy in sunbathing and nice sea food ( lunch) prepared by restaurant nearby. Upon relaxation we sail towards Primosten where will spend night in marina.

Day 3. Kornati Islands – National Park – Zirje
We sail from Primosten toward National Park Kornati . KORNATSKI OTOCI (Kornati Islands), the largest and densest archipelago in the Adriatic Sea; consists of 147 islands. After short tour ,we will have lunch and sunbathing at Zirje island coves on anchor and some light lunch on board. Upon peaceful afternoon we sail towards Marina Piskera on Kornati Islands where we will spend night.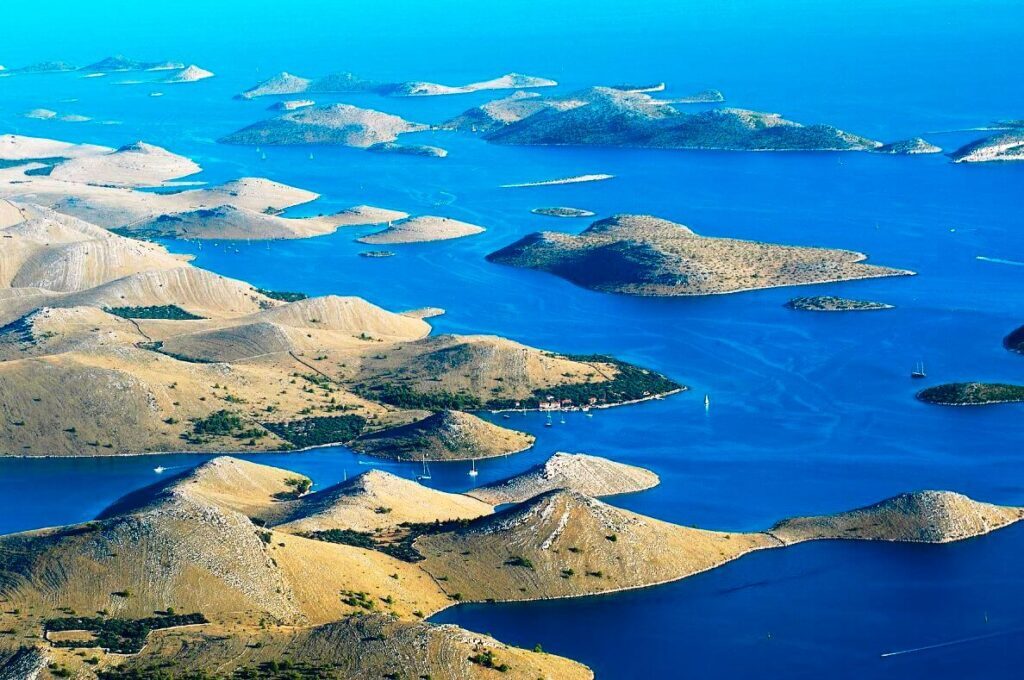 Day 4. Kornati Islands
During the day will make a tour around Kornati Islands , through many channels between islands. Dugi Otok was mentioned by Constantine Porphyrogenitus in the mid-10th century under the name Pizuh (preserved in the name of the locality Cuh near the Telascica Bay). Will have some sunbathing in Telascica bay with beautiful sand beaches and lunch on anchor. Before evening we steam to Marina Zut where will spend night.

Day 5. Kakan – Skradin
We sail out from Zut on route to Veli and Mali Borovnjak, along the south-eastern coast Veli and Mali Kamesnjak, and along the north-western coast a cliff called Mala Mare (Little Mary). Kakan is a favorite destination of excursionists and boaters, who enjoy peace, quietness and intact nature. Next to the nice grove is a beach where you will be able to use amenities/toys from garage of your yacht ( subject to size and type). If you are not familiar with water jets crew will assist /teach you how to operate it. In late afternoon we steam toward Marina Skradin hidden in Sibenik channel where will stay overnight.
Day 6. Skradin and National Park Krka
Skradin, the headquarters of Krka National Park, is one of the oldest Croatian settlements with the status of a town (2nd c. BC). Situated not far from the world phenomenon Skradinski Buk, where the Krka river flows with tranquillity, it represents the center of life from the early ancient times. Will make a tour around Krka National Park : Visovac, Roski Slap , Sibenik, Bribir. After lunch in restaurant which offers famous specialities (risotto, seafood) and wines (Debit, Plavina) will sail towards Sibenik town , where will spend night in city harbor. Sibenik was first mentioned in 1066, in a document issued by King Petar Kresimir IV who stayed in the fortified citadel of St. Michael, today St. Anne's Fortress. Will enjoy night life in Sibenik in local bars , restaurants and walk to top fortress above town.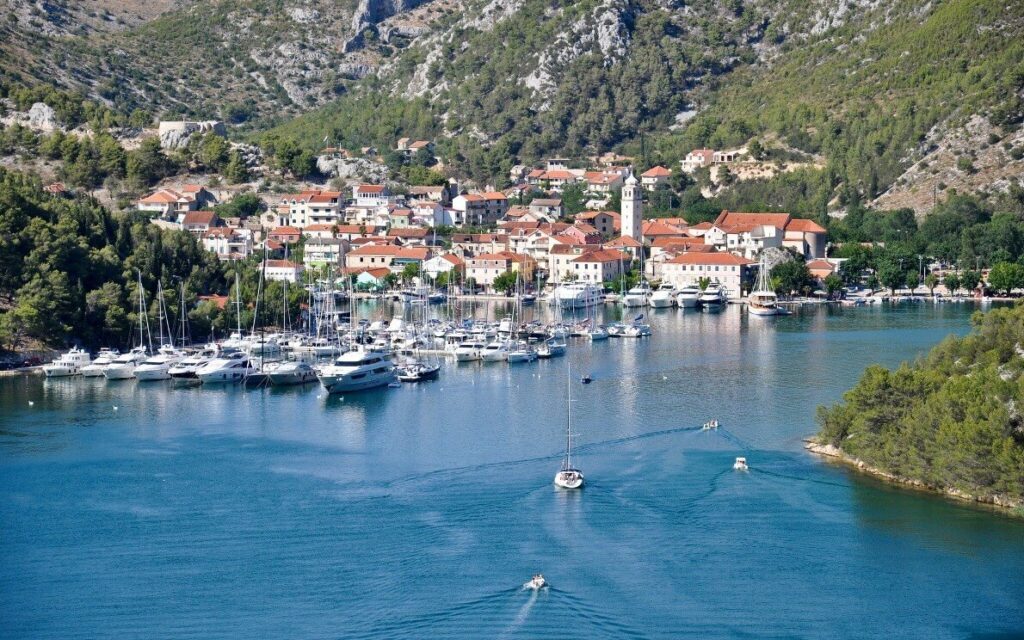 Day 7. Return to Bases: Split or Trogir
After rich breakfast in Sibenik we steam to our starting point /base where will disembark and transferred to Split Airport for your flight.