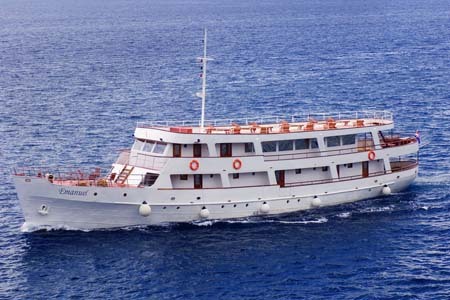 37.60 m ( 123'36 ft )
7.0 m ( 22'7 ft )
2.20 m ( 7'22 ft )
1995 Ref 2006/7
Split Croatia
18
36
7
11.0 Knots
Cruise on Emanuel and explore the beauties of Croatia and its magnificent Adriatic sea with its pearls Cruisies such as: Trogir called "town-museum", Split -monumental city under UNESCO protection, Pula with its Roman Amphitheatre one of the best preserved amphitheatres in the world, Hvar -the sunniest Adriatic island, Korcula – the birthplace of Marco Polo, wonders of National Parks Kornati and Mljet and pearl of the Adriatic- Dubrovnik .
There'll be time to wander the cobbled streets of walled medieval towns, browse through attractive shops and swim in the crystal clear waters of the Adriatic Sea .
CABINS
There is a total number of 18 passenger cabins (for tourists) ranging from 8,50 to 10,50m2 in size. All cabins are housed on both sides of the vessel and face the sea. The cabins are laid out on two decks – in the lower-deck area and on the main deck and are equipped in accordance with the highest standards. Each cabin has opened-out beds with luggage compartments underneath the bed, air-conditioning (cooling and heating), contemporise furniture, safety-deposit box, a painting, a mirror, night-table lamps, wooden wall-boards, carpeted floors, safety and fire-alarm installations, modulated sanitary facilities (WC/shower). In addition, each cabin is supplied with a basic information notice about the ship and basic instructions in case of evacuation, life-saving etc.
RECEPTION DESK
A small reception desk (11,2 m²) in accordance with the ship's requirements which is air-conditioned and where cabin keys, brochures, and pamphlets are kept together with various other information. Also, a small internet desk is available to the guests at an extra charge for internet access and where, also at an additional charge, a telephone is available for use to the guests as well as the use of books from the small library. In addition to the afore mentioned, the guests also have at their disposal various games such as cards, darts, monopoly etc. Also in this area, hanging on the wall is a map of the Adriatic coast and an information board.
RESTAURANT
The restaurant is located on the upper deck and in order to achieve quicker and better communication the restaurant is placed right next to the galley ( cca 45 m²). Fully air-conditioned (cooling and heating). There are 40 seating places. All three main meals are served: breakfast, lunch and dinner. There are two stewards in attendance who have for their use a separate counter in the restaurant. The interior is decorated in accordance with the highest standards together with all the required facilities that are usually found on small cruise ships.
LOUNGE BAR
The lounge bar (cca 22 m²) is located on the upper deck with seating places (air-conditioned). A wide assortment of alcoholic and non-alcoholic beverages as well as coffee, tea, hot chocolate and a selection of cakes and pastries are served at the lounge bar. In addition to this, a steward/barman will mix and serve cocktails. The lounge bar is located on stern part of the upper deck next to the restaurant The interior is decorated according to the highest standards together with all the required facilities that are usually found on small cruised ships. The lounge bar is contected to the exterior of ship in order the guest can move around more freely.
GALLEY
The galley is located on the upper deck and is equipped with all required appliances and technology (11,3 m2). In order to achieve quicker and better communication, the galley has been placed right next to the restaurant. Total galley area measures 11,3 m2.
SUN DECK
The sun deck is intended for relaxation, sunbathing together with requisites required for this purpose (deck chairs, sunbathing chairs etc) Total sun deck area measures 220 m2
Friendly and professional crew of m/v Emanuel, tasty and abundant food specialities, unique cultural heritage and amazing pure nature are enough reasons to convince you to come on our cruise and spend the time which will deeply engrave on your mind for the rest of your life .
Technical Specifications:
Lenght: 37.60 m ( 123'36 ft )
Beam: 7.0 m ( 22'7 ft )
Draft:  2.20 m ( 7'22 ft )
Bulit: 1955
Rebuilt: 2005
Refitted: 2006/7
Shipyard: Split Croatia
Classification Society: Croatian Register ( CRS )
Engine: Volvo 550 HP
Generators: 1 x 33 kW Perkins + 1 x 52 kW Scania
Displacement: 258 T
Water Tanks: 30 T
Fuel Tanks: 6 T
Air Condition: Yes
Cabins: 18  ( 14 double + 4 Twin cabins all ensuite )
Guests: 36
Crew: 7 (Captain, First Engineer, A/B seaman / helmsman, cruise manager, 2 stewards, chef )
Cruise Speed: 10.0 Knots
Charter price include:
• 13% CroatianVAT , 7 crew members
• 7 day cruise trip around the Dalmatian coast and islands
• Registry of guests (giving information, directions)
• Welcome cocktails
• Trips to shore and vice versa by speed boat
• Visiting Dalmatian towns according to the cruise route (guide not included)
• Port taxes
• Use of deck chairs and sunbathing chairs on the sun deck
• Use of the small library on board
Food Options :
• H/B € 270,00 pax/week (breakfast plus 1 meal per day)
• F/B € 300,00 /pax/week (breakfast plus 2 meals per day)
• Inclusive Dalmatian dinner last night of the cruise
Beverages are not included in price