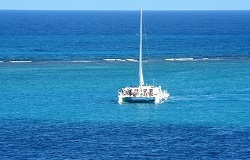 At NYC, leading luxury yacht charter company specializing in bespoke sailing charter holidays, we have been waxing lyrically about the joys of sailing in the Mediterranean for many years.
Indeed, the first luxury sailing yacht rentals that we offered as a young fledging yacht charter company were in the azure blue waters off the Croatia coastline.
We now offer luxury yacht charters in a large selection of cruising grounds from the French Riviera in the Mediterranean to the Caribbean and Bahamas. We have also recently started to offer bespoke luxury yacht charters in Antarctica. 
But without doubt our most sought after luxury yacht charters are in the Eastern Mediterranean so we were delighted to read in the American online blog Huffington Post that this region ranked as number one in a poll of cruising trends for 2014.
In a survey of holidaymakers who have set sail in various destinations across the globe in recent years, ports of call along the Adriatic Sea such as Croatia, Greece and Turkey emerged as the most popular destinations. 
Next in the poll by Expedia was Alaska followed by the Western Mediterranean.
Here are the top 10 destinations that made respondents' wish list for 2014:
10. Panama Canal
9. Eastern Caribbean
8. South Pacific
7. Western Europe
6. Northern Europe/Baltics/Scandinavia/Russia
5. Southern Caribbean and Hawaii 
4. Australia/New Zealand
3. Western Mediterranean
2. Alaska
1. Eastern Mediterranean
For more information about the possibilities of embarking on your own dream cruise in the Eastern Mediterranean, or many of the other destinations listed above, please contact us at www.navis-yacht-charter.com
We offer luxury yacht charters on a wide range of boats from state-of-the-art motor yachts to traditional catamaran charters and gulets, available with or without a crew.